25 février 2009
ABOUT JADE AND PIXIU ANIMAL IN CHINA
When you visit Shanghai, our attention is inevitably drawn to the shops and stores exposing all kinds of objects in jade with colors ranging from white to dark green. There is a Chinese proverb which say:"we can value the gold, but jade is invaluable". It perfectly symbolizes the attitude of the Chinese vis-à-vis the material.
My previous visit to the museum in Shanghai also revealed interest in jade since ancient times. So in China we are talking about the Jade Age, as the Iron Age in western countries.
So I ventured into one of these jade shops. On the ground floor, an entire room is devoted to objects often large sizes and colors which vary for the essential light green to dark green, but near-white colors are also visible.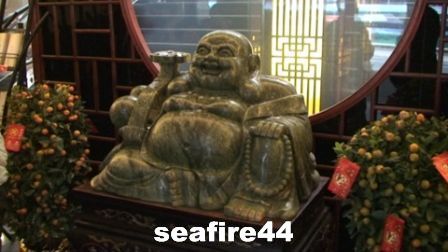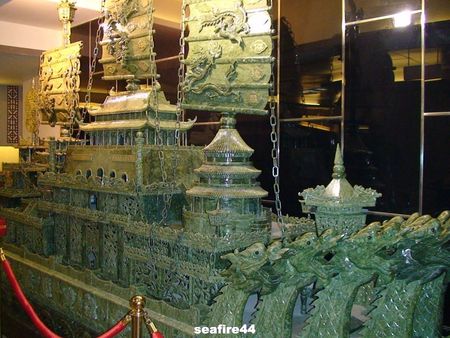 As a seller quickly approached me immediately, I asked some technical explanations on the different color, value and quality we associate with.
I fell on an expert. He explains that the jade is a silicate of sodium and aluminum.
Burma and Guatemala (see my previous article on Antigua on "soif d'ailleurs blog") are the main producers. Hard stone and translucent can have color varying from creamy white to dark olive green depending of the proportions of iron and chromium oxides. You can also find amber or reddish color.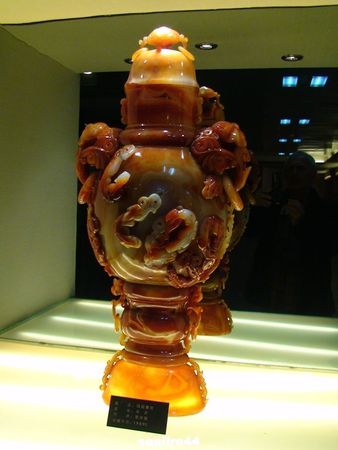 Geologists classify jade in two types: the jadeite and nephrite, the latter being the most common .
The jadeite considered as the true jade, is characterized by a green much more sustained and greater translucency and is the so-called imperial jade.
I am therefore initiated! And I will, may be, now able not to accept what unscrupulous sellers say!
In China, jade is an outward sign of social status and it was the symbol of imperial dynasties and the supreme power.
Throughout his explanation seller show me the wonders of his store a few pieces up to several meters in length.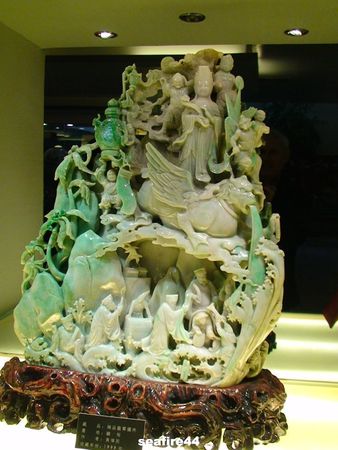 Advising a large sculpture of a dragon, it will start again in a detailed explanation about the beliefs on this legendary animal: the Pixiu.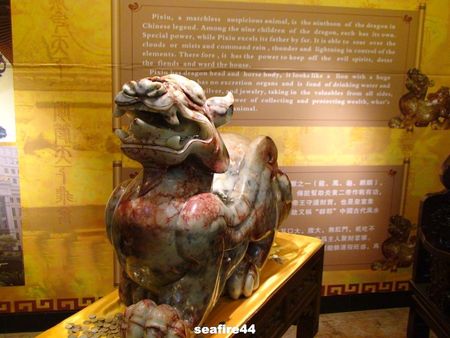 Its morphology is unique, with a dragon head, a body of Chinese lion, feet of Qi lin. It is sometimes dressed in wings and it has no anus.
This mythological animal is described as the 9th child of a celestial dragon of the Emperor of Jade. Having violated the laws of heaven, he was punished on a rather special way imposing a diet consisting only of gold and silver and its anus was removed.
Thus the Pixiu symbol in Chinese tradition, wealth, piles of money. Feng Shui uses this animal largely by giving it as many powers to protect his masters of evil powers, attract good luck, fortune and wealth, the protection of car accidents, to facilitate negotiations with customers. It is also an animal mascot for the casino players.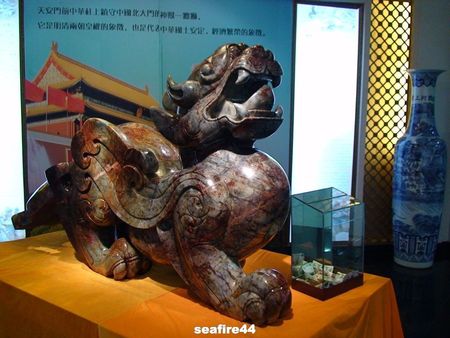 After this successful demonstration, the salesman took me to the top floor where shelves full of objects and jewelry of all sizes some of them representing the famous Pixiu.
After such conditioning, I had to be very tough to avoid having to purchase the complete store. Seeing my reluctance to buy pieces of large size, he offered me objects successively more and more modest. Finally, to his dismay and to avoid losing face, I hand over a jade pendant that I bargain, drawing on the lessons he taught me a few minutes before.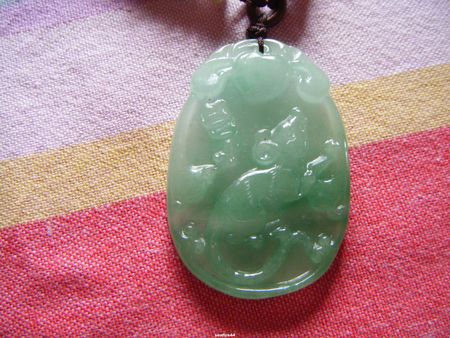 …….
Commentaires
Poster un commentaire