07 mars 2009
NANJING ROAD THE HEART OF SHANGHAI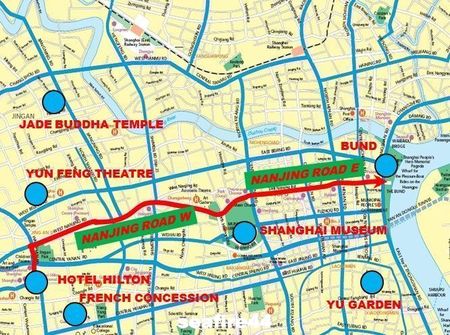 After the Opium War, this part of Shanghai belonged to the British Concession, then to the International Concession. Nanjing road became the commercial thoroughfare where any goods for inland China, mainly Nanjing were transiting.

So, it's quite naturally that this road has become over the years, the Mecca of Commerce in Shanghai.

In the eve of Chinese New Year, Nanjing Road is booming and is full of all its finery. It must be said that this street is a bit like the Champs Elysees in Paris, the Nevsky Prospect in St Petersburg, or the 5th Avenue in New York. I decide to walk on its the entire length of about 5 to 6km, from Jingan Temple in the west to the Bund in the east end.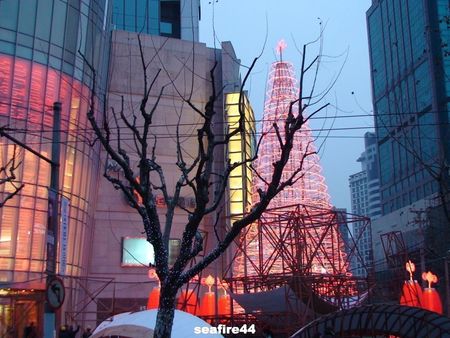 In fact the street is divided into two parts, the western part from Jingan Temple and people park and then go east until Bund, with a large pedestrian area.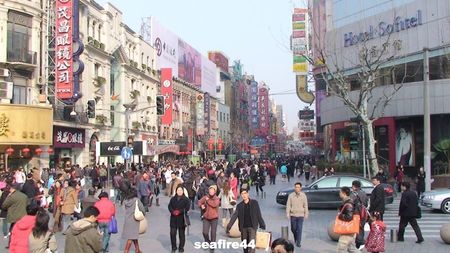 There are shops of all kinds in this street, from supermarkets to small shops through the shops with the most prestigious international brands represented.
There are also office buildings, large hotels, theaters and museums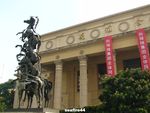 I invite you to discover in a few pictures, some remarkable place of that street of Shanghai.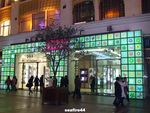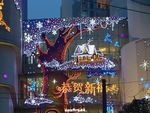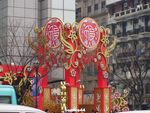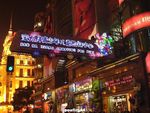 Sometime, there is also some unforeseeable show on the road, like this student trying to clean the motorcycle of this policeman. As you can imagine the Chinese policeman are not fan of this kind of joke and he will put the young student on the straight line immediately.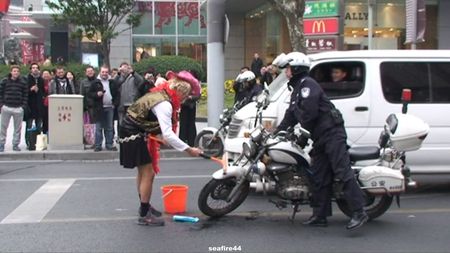 My description would not be completed, if I did not speak about People Park which adjoins Nanjing Road, where I attend gatherings around hardened cards games.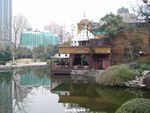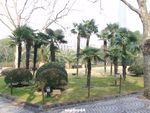 Particularly in the West, it is also very interesting to go into small narrow streets perpendicular to Nanjing Road, the entry is almost always controlled by a safety guard.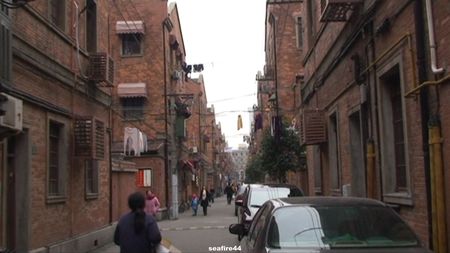 Here, the show is different, no big illuminated buildings, but squalid buildings dating from the era of concessions, with old shops.
fish drying at the entrance of houses
and clothes hanging in the windows.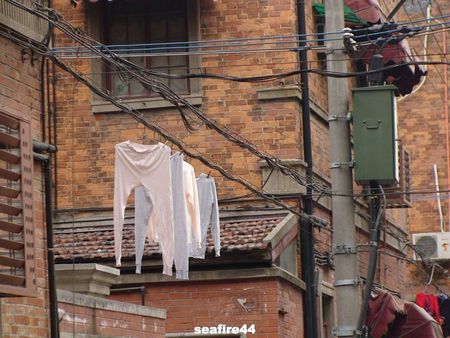 These are the two faces of China !!!!!
......
Commentaires
Poster un commentaire